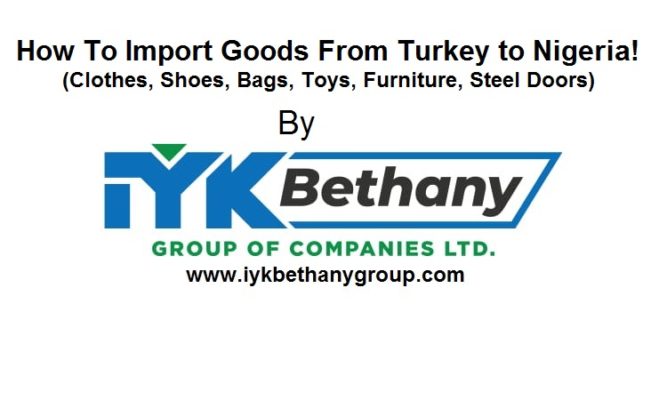 How To Import Goods From Turkey (clothes, Shoes, Bags, Furniture, Steel Doors).
As an entrepreneur, I import lots of goods and services from different countries such as Vietnam, Turkey, Israel, USA, UK, Germany, China, Hong Kong, India, Canada etc.
Within the last few years I have written some free importation guides, please read my Vietnam Importation Guide here: https://iykbethanygistville.com/2017/10/20/free-importation-guide-how-to-import-goods-from-vietnam-to-africa-clothes-shoes-tiles-eye-lashes-etc/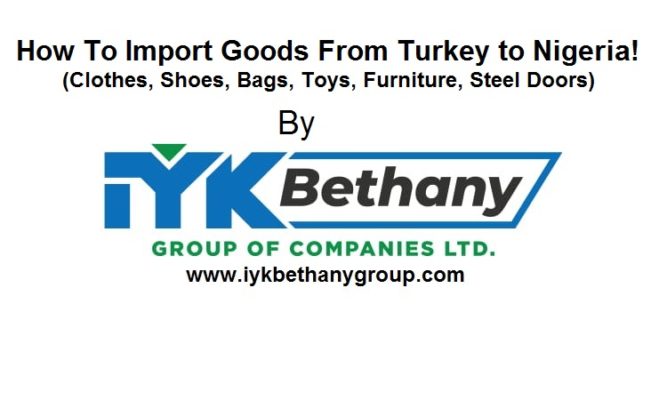 This article is for Nigerians or any African business man/woman that want to travel to Turkey to import goods they want to resell in Nigeria or Africa.
WHERE IS TURKEY LOCATED? Turkey is a transcontinental country, having parts of it in Europe and Asia.
Let Me Make It More Clearer: By land mass, Turkey is positioned 95% in Asia and 5% in Europe. On The Asian side, it is bordered by: Azerbaijan, Iran, Iraq, Syria and Armenia. On the European side Turkey is bordered by Greece, Georgia and Bulgaria. I think Turkey is the only country in the world that is located in two continents as explained above. Turkey manufactures lots of QUALITY goods for the European market.
Is Nigeria richer than Turkey? NO, Turkey is a developed country with a GDP per capita of $26,900, while Nigeria is underdeveloped country with GDP per capita of $5,900.
IS TURKEY DEVELOPED: Yes Turkey is a very beautiful country and they are at par with top European countries in terms of infrastructure. This is small video I took during my last visit in Istanbul: https://youtu.be/vX_Lrqm6Cig
ARE THERE NIGERIANS IN TURKEY? Yes there are Nigerians in every part of the world including Turkey. I think Nigerians, Indians, Chinese and Philippine people are the most travelled people on earth. There is no country I visited that I didn't meet citizens of these countries. The first time i visited Cambodia i wasn't expecting to see Nigerian there. I was in Vietnam to shop for shoes and clothes, got everything i wanted in Vietnam within 3 weeks so I decided to spend the remaining 6 days to see what Cambodia looks like since it is just 30 minutes by air. Omo the moment i landed in Phnom Penh i saw dozens of Nigerians in every street shop/bar in Cambodia. What really surprised me was that most of the bars and lounges were playing Nigerian music only. But anyways this article is about Turkey.
ARE THERE JOBS FOR NIGERIANS IN TURKEY? There is no high paying jobs for Nigerians and black Africans in Turkey. Most Nigerians in Turkey are self-employed. The only available job is to work as a sales boy/girl in a shop/boutique and the salary is about $100 or $200 monthly which is not enough to pay your bills so if you are planning to travel to Turkey for high paying jobs i will advise you to think twice unless you want to join the thousands of jobless/frustrated Nigerians in Turkey. Many Africans are scammed and promised high paying jobs in Turkey.
Few months ago I met a Ghanaian lady in Istanbul, her name is Akos (Not Her Real Name for security). Akos owned a beauty salon in Accra but wanted to travel to Germany. When her German visa was refused her girlfriend in Turkey told her to come to Turkey because there are high paying jobs all over Turkey and that the salary was 2,000 euro monthly. Well Akos raised money and joined her friend in Turkey. But when she got to Turkey she realized that her friend lied to her, there were no such jobs in Turkey and she was doing prostitution. At first Akos didn't want to sell her body for money, so she decided to do menial jobs, the only jobs she could get was shop attendant, even to get those small jobs the Turkish bosses had to sleep with you, most times in your anus, yeah coz they have no regard for the blacks.
This is simlar story for many black girls in Turkey. As a part time blogger I usually interview some of the black girls in Turkey each time I visit. From my estimation, 80% of black African girls in Turkey are doing prostitution. So if you are a 9ja girl/boy and someone is telling you to migrate to Turkey for high paying jobs just know that the person is a terrible liar. I have even stopped advising Nigerians because they won't listen, most times they will question why you wanna stop them from travelling.
VISA REQUIREMENTS: Nigerian passport holders need visa to enter Turkey. But as a Nigerian, if you have visa or passport of the following countries then you do not need visa to enter Turkey, you get visa on arrival in Turkey. The countries are UK, USA, Australia and Western European countries.
HOW TO GET TURKISH VISA IN NIGERIA: THE ADDRESS OF TURKISH EMBASSY IN NIGERIA is: 5, Amazon Street, (Minister's Hill), Maitama, Abuja. Phone: +2348036848981 Fax: (09)4139457
TYPES OF TURKISH VISA: Tourist Visa, Student Visa or Business Visa.
Turkey Visa Requirements
Valid Nigerian Passport (with validity of more than 90 days)
A Duly filled visa application form
Your Passport photos
Your visa supporting documents.
Your recent bank statements to proof your financial capacity
Proof of health insurance
Visa processing fee (varies depending on the type of visa you wanna apply).
HOW MUCH IS THE TURKISH VISA FEE?
Turkey Visa Type Visa Fee
Turkey Tourist Visa 100 USD
Turkey Student Visa 80 USD
Turkey Business Visa 120 USD
Turkey Transit Visa 20 USD
From the above types of visa you will easily identify which type of visa that applies to you and the appropriate fees to be paid.
WHICH AIRLINES FLY TO TURKEY? All of the world's major airlines fly to Turkey such as Turkish Airlines, Emirates, Qantas, Qatar, Ethiopian, British Airways, Air France, KLM, VIRGIN, Lufthansa etc. Most times I fly either Turkish Airways or Emirates.
Turkish Airlines fly direct to Istanbul from either Lagos Airport, Abuja Airport or Port Harcourt International Airport. EMIRATES is fine but they go to Dubai first before connecting to Istanbul using another aircraft. So I will advise that you use Turkish Airlines because they fly direct from Nigeria to Turkey and their baggage allowance is second to none, plus their airplanes are relatively new.
TRAVEL TIME: From Nigeria to Turkey by air using Turkish Airlines is 6:20 hours.
WHERE TO STAY IN TURKEY: It depends on what brought you to Turkey. If you are going to Turkey for Tourism, these are the best cities for Tourism in Turkey:
Kabak Bay. …
Butterfly Valley. …
Patara. …
Princes' Island. …
Cappadocia. …
Hagia Sophia Museum. …
Mount Nemrut. …
The City Of Ephesus….
FOR TOURISTS, THESE ARE SOME OF THE BEST RATED HOTELS IN TURKEY WITH THEIR PRICES IN NAIRA, PER NIGHT:
Ajwa Hotel Sultanahmet: 350,000 NAIRA
Delphin Imperial Hotel Lara: 105,000 NAIRA
White House Hotel Istanbul: NGN 62,000
Raffles Istanbul: 140,000 NAIRA
Four Seasons Hotel Istanbul at Sultanahmet: 160,000 NAIRA
Hotel Sultania: NGN 60,341
Swissotel The Bosphorus, Istanbul: NGN 79,141
Radisson Blu Hotel & Spa – Istanbul Tuzla: NGN 30,042
Hotel Amira Istanbul: 60,000 NAIRA
Rixos Pera Istanbul: 58,000 NAIRA
The Marmara Taksim; 45,000 NAIRA
Pera Palace Hotel: 75,000 NAIRA
Hampton By Hilton Istanbul Kayasehir; 28,000 NAIRA
DoubleTree by Hilton Istanbul Topkapi; 22,000 NAIRA
Sura Hagia Sophia Hotel: 65,000 NAIRA
Elite World Hotel $55,000
I stayed at Elite World Hotel Istanbul during my last visit, its a new, clean, classy 5 star hotel but yet affordable, this video will guide you: https://youtu.be/5KFKeQjwTZw
No matter which Turkish city you have chosen for Tourism, please DO NOT forget Marmaris in Muğla Province and thank me later. In Marmaris please stay at Grand Yatci Marmaris Palace or Grand Yatci Club Turban and please get the ALL INCLUSIVE DEAL which includes airfare, accommodation, food, drinks, wine etc. I have stayed in both hotels with my family and we love it. Here is video I made of Grand Yazici Club Marmaris night entertainment: https://youtu.be/mCb5Wtq7SM4
FOR BUSINESS: If you are traveling to Turkey for business, then Istanbul is the answer. and in Istanbul, Osmanbey, Laleli and Merter is where you will find all kinds of wholesale fashion such as ladies and gents shoes, bags, belts, sneakers, suits, football boots.
FOR FURNITURE: Masko is where you will find all kinds of WORLD CLASS furniture from $3,000 set to $100,000 per set. People come to Masko from all parts of the world to shop for Highest Quality Turkish Furniture. Here is a youtube video of some of the sofas we recently imported from Turkey. Here is video of me in Masko shopping for furniture for our numerous clients: https://youtu.be/pGvEAKhRwjs
AFRICAN FOODS: Aksaray is where you find Nigerian and African restaurants. There are other cities to eat 9ja food but i prefer Aksaray.
CARGO/SHIPPING COMPANIES: Aksaray is where most Nigeria/Africa cargo companies are located.
There are different kinds of hotels all over Turkey ranging from cheap, budget and classy/expensive hotels.
THESE ARE SOME OF THE CHEAPEST HOSTELS IN ISTANBUL, they are all $10 per night:
Taxim Hostel – Adults Only
Windrose Hostel
Levanten Hostel
Bella Vista Hostel
Erciyes Hotel
Avrasya Hostel
Stay Inn Taksim Hostel
I am sure you know the difference between a hotel and a hostel? You will share toilet & bath with other people. SO for your own comfort, security and privacy, it is better to stay in $50 per night hotels such as Prins Hotel etc.
WHAT TO IMPORT FROM TURKEY TO NIGERIA/AFRICA?
Turkey manufactures all kinds of quality goods. There are lots of top quality goods to choose from but these are some of the most popular goods i procure for people: Furniture for home, hotel or office, Security/Steel Doors, Bullet Proof Doors, POP Cement, 3D Wall Papers, 3D Wall Panels, Curtains, Bedsheets, Baby Wipes, Diapers, Household Items, Tiles, Rugs, Carpets, Shisha, Rechargeable Fans, Water Pumping Machines, Air Condition Unit, anything fashion, ladies and gents clothes, shoes or accessories.
People even order little things such as blue eyes which Turkish people wear as a fashion accessory but many Nigerian girls believe that wearing blue eyes attracts good luck and rich men.
BELOW ARE SOME VIDEOS OF SOME OF THE GOODS I RECENTLY IMPORTED FROM TURKEY:
1. Designer BAGS: https://youtu.be/7ncjDfsfJYk
2. Shisha: https://youtu.be/Cer0ZBzw9Fc
3. Turkey Made Shoes: https://youtu.be/Q-I_GKtgQdI
4. Babies and Toys: https://youtu.be/j_JqYcENvjQ
HOW MAY I HELP YOU?
1. I am open for contracts and partnerships.
2. I can connect you to manufacturers and or wholesalers in Turkey.
3. I can source or procure any goods or services from Turkey for you or your company
4. If you buy the goods by yourself, I can help you with logistics, I can ship your goods from Turkey to Nigeria @ 4 dollars per kilo. I also ship to Ghana, Cameroon, Gambia, Ethiopia and Kenya.